Telegraph has recently added some unique and colorful art. From large mural to intimate sculptures to mosaic trashcans. If you want to know the background of some of these artists, check out the info below.
Name: Marvelous Miss Mars
Location: Channing at Telegraph
Artist: Forest Wolf Kell
Forest Wolf Kell is multi-disciplinary artist working in Portland, Oregon. Kell graduated Portland State University in 2017 with a Bachelors Degree in Fine Art. Most of his works are paintings and illustrations with aesthetics influenced by graffiti and tattoo culture. Kell is the owner, head artist and co-curator of the Portland arts collective and clothing company, Last Bus Club.
Location: All over Telegraph
Artist: David Martin
While you don't often consider a bike rack to be art, these ones have a special story. We worked with a local firm bikeparking.com on the design. They took the designs to the fabricator David Martin, who grew up with hippy parents. When he saw the design he fell in love and insisted on making them using the slower and more expensive TIG welding method. If you look at the racks closely you will see how perfect the welds are. Industrial art!
Location: Various walls
Artist: Nigel Sussman
From the popular Welcome to Telegraph mural at Dwight and Telegraph, the the back wall of Mezzo, to Sather Lane, to the base of the Telegraph Channing Garage, Nigel has done a lot for the district. His construction mural at Mezzo was so popular, the owner incorporated it into the back wall of the restaurant.
Nigel creates complex isometric murals and illustrations. He can often be found painting pictures of giant cats or flying food. Bold, bright and complex, Nigel's signature style uses isometric line-art and a striking but simple color palette, creating seek-and-find type illustrations that feature complex fantasy architecture and/or imaginary machines. There's all kinds of activity going on in Nigel's work and it's no surprise to find that his influences include Martin Handford (creator of
Where's Waldo?
), MC Escher, and the original SimCity computer games.
Find out more here.
Mosaic cans
Location: Various Locations
Artist: Juan Lopez
Juan Lopez is of Cuban heritage from Miami. He spent most of his adult life in Santa Fe, New Mexico as a tile and stone independent contractor installing stone, glass and ceramic tiles in high-end residential construction. He honed his skills tiling bathrooms, kitchens and floors. After 25 years he was ready for a change and moved to the SF Bay Area five years ago at the suggestion of his son who had already living here. He did not know what his next step was when he arrived but he found his new career by happenstance shortly after his arrival: One day while exploring Lake Merritt he came upon a group of people grouting and tiling several city trash cans with simple mosaic patterns. Now he has scores of cans up and down Telegraph.
A People's History of Telegraph Avenue
Location: Haste at Telegraph
Artist: Osha Neumann and Brian Thiele
Osha Neumann is a well-known Bay Area activist and artist who has participated in every major tactical shift in radicalism and art over the last fifty years. He was a member of the infamous Up Against the Wall Motherfucker anarchist street gang in New York City. During the '60s, the Motherfuckers battled churches, public figures, art and corporate institutions, the press, and the police while providing community services for many people on the Lower East Side. . He became a civil rights lawyer and activist, providing legal services to homeless and working against discriminatory legislation. While still practicing law, Neumann took up art again and started painting murals in the Berkeley area, including "A People's History of Telegraph Avenue."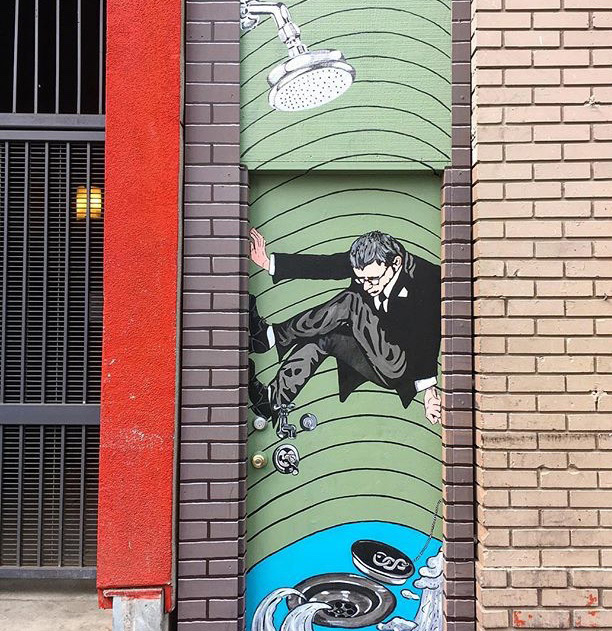 Location: Various walls and businesses
Artist: Connie Bleul
Conny
 Bleul came to Berkeley from Berlin with her husband in 2002 for an 11 month work assignment which has turned into 17 firmly entrenched years here.
Conny
 is not only an excellent artist but a real Renaissance person pursuing and excelling in many fields: From being a well known and highly respected birth Doula (she delivered more than 100 babies in the Bay Area),  teaching German on all levels ( she was the director of the German school of the East Bay and is a teacher at the Goethe Institute SF), to being a museum professional and fine arts appraiser she has done it all.  She earned a Ph.D.  in  Philosophy from the Freie University Berlin and a Masters degree from USF.
Currently she's a freelance curator, art consultant and on staff at the San Francisco Museum of modern Art.  Since 2008 she has been painting murals in Berkeley. The gallery of murals at the Cal Sailing Club at the Berkeley Marina shows her work between 2008 and 2015. Her latest murals are in Games of Berkeley, Muracci's restaurant, on the outside door next to the restaurant (pictured) and across the street at the construction side of The Enclave.
The Obata Mural
Location: PG&E substation, 2540 Telegraph
Artist: Rich Black
Chiura Obata is a nationally recognized artist with paintings in the Smithsonian. He was most remembered for the works he created at a Japanese internment camp during WWII. He studio was across the street from this mural.
Rich Black He's a big guy with a rough voice. When he paints, he wears a black jumper that is so paint-splattered it could pass for a Pollock. He is the creative force behind all the marketing material, programs and literature produced by Berkeley's Shotgun Players who are based at Ashby Stage. (Watch a Berkeleyside video about Black made in 2011.) He paints the entire wall of the theater every time it puts on a new production — adapting a design he has devised to promote the play to fit the large expanse of the building's façade.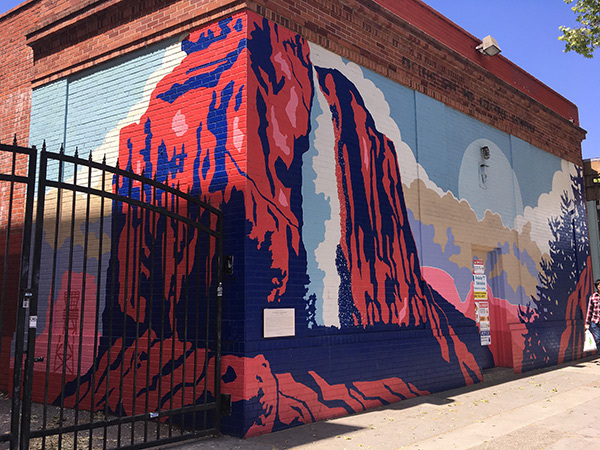 Love Not War mural
Location: 2565 Telegraph
Artist: Dan Fontes
Muralist Dan Fontes has been creating fine art works since 1981.  This includes both art in public places as well as privately commissioned works for interior and exterior walls throughout the Western U.S.  Since opening his first studio in Oakland he has created site specific pieces as well as custom works in the studio for a wide range of clients, businesses and individuals.
Dan has also collaborated on many murals for specific architectural endeavors.  Always handpainted with a unique attention to detail.