AC Transit
24 - Hour bus service - The district is directly served by AC Transit's line 51 B (Berkeley Marina--downtown BART--Rockridge BART); line 6 (Downtown Berkeley-- downtown Oakland-- Bay Fair BART).
BART
4 am - Midnight rail service - Bay Area Rapid Transit (BART) connects riders from across the Bay Area to over 40 destinations, including Downtown Berkeley. Downtown Berkeley BART is a 15 minute walk to Telegraph Avenue, or a 5 minute trip via bikeshare.
511.org
Complete transit options guide/maps. Need help planning your trip? 511.org provides up-to-the-minute information free by phone or online. Call 5-1-1 or go to 511.org for schedules, maps or to plan your trip.
BIKE
The district can be reach from every direction: The Channing St. bicycle boulevard connects to central and west Berkeley. The Hillegass/Bowditch bikepath connect to the Elmwood and Claremont neighborhoods in Berkeley and Oakland's Rockridge, Temescal, and downtown areas.
From North Berkeley you can ride through the campus, but look out for No Biking Zones at Sather Gate and Sproul Plaza. BikeShare is a convenient way to get here and tour Berkeley. We have three Bikeshare stations in the District: one at to top of Telegraph, one at Telegraph and Haste, and one on Fulton at Bancroft.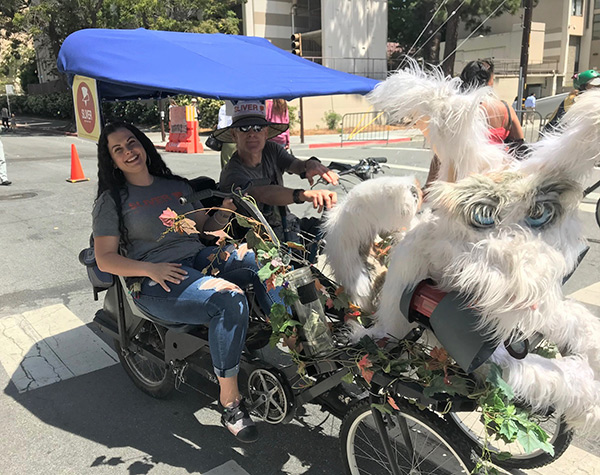 PARKING
At the Telegraph Channing Garage, the First Hour is Free! Located two blocks from the UC Berkeley Campus (one-half block west of Telegraph Avenue), there are entrances on Durant Avenue and Channing Way.
2315 Ellsworth (at Durant): Open from 6 AM to 12 AM Monday to Saturday. Rate is $1.00 per 20 minutes, $17 maximum; arrivals before 8 AM are $8 all day. Click here for rate info.
2337 Channing Way (First Congregational Church Parking Lot) $10 all day
2362 Bancroft (Trinity Church). Prices vary
There are metered parking spaces along the district's streets. In total, 610 street parking spots.